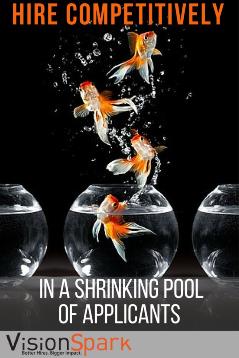 by admin
Comments Off

on How to Hire Right-Fit Employees In A Shrinking Applicant Pool
Recently, we wrote a post about why employers in "B minus towns" should hire (not just recruit) on an ongoing basis. The truth is, when it comes to hiring these days, all employers may as well be in B minus towns. Unless your company is among the golden few — the Googles, the Apples, the Teslas of the world — you have less hiring power now than do the candidates with the skills and qualities that are most coveted by employers. As noted by author Tony Lee in this SHRM article, "…even [hiring] the mediocre and the somewhat dim — has been a massive challenge this year, no matter the size or location of the company."
If there was any doubt before, the hiring market is no longer owned by those doing the hiring. It's become a competitive, candidate-driven marketplace where user experience (of the candidate) matters more than ever before. The sooner you pivot to adapt, the better off your company will be.
If You've Put Off Being Relentlessly Strategic About Hiring, Here's Why It's Change Or Die:
The Skills Gap:

According to Bureau of Labor Statistics (June 2014), with 4.7 million jobs available, over 50% of employers indicated they can't find qualified candidates. Contributing factors include college curriculum that is misaligned with the job marketplace (Dan Schawbel, in

Forbes

) and rapid technological advancement which quickly makes skills obsolete (Lee, in

SHRM

).
The Generational Shift:

Baby Boomers are retiring. In 2015, for the first time Millennials surpassed both Boomers and Gen Xers as the largest share of the American workforce (

Pew Research Center analysis of U.S. Census Bureau data

). If you aren't thinking about how you can better reach and attract this group of candidates based on data about what they are looking for and how they are looking, it will be your company's loss.
There's No Loyalty:

The flipside of continuous hiring is continuous job searching. 86% of employees are looking for new work outside of their current job (Indeed.com data, in

Fortune

). And, employee attrition is expected to increase (according to hiring managers surveyed by

Glassdoor.com

). If you don't actively work to retain current employees, you risk losing them. Employees gain more by moving to a new company with a 10-20% raise than they do by staying with a company that gives them a 3% raise (Cameron Keng, in

Forbes

). By the time you replace a defecting employee, you will have paid more than the 10-20% salary increase you could have just matched.
It's Hurting Your Bottom Line:

48% of U.S. employers say talent shortages have a medium to high impact on their business (source:

ManpowerGroup's Annual Talent Shortage Survey

, 2015). Negative impacts include:

Reduced competitiveness and productivity (reported by 41%)

Increased employee turnover (reported by 32%)

Higher compensation costs (reported by 32%)

Reduced employee engagement / morale (reported by 32%)
How Is the Applicant Pool Looking Here in Columbus?
Here in the Columbus metro area, as of October 2015, our county unemployment rates range from 3.1% to 4.2% (not seasonally adjusted). Nationally, they were at 4.8% for the same period. While great news for the local economy, it also means the local job market is even tighter. In the December 2015 issue of Columbus CEO, they published a survey of Central Ohio CEOs in which labor availability was identified by CEOs as the top obstacle facing their businesses. In 2014, just 14.1% of CEOs identified labor availability as a top challenge, but in 2015 it jumped to nearly 25%. The survey respondents indicated satisfaction with the quality of the local workforce, suggesting that the tight job market (availability) is the larger issue.
Labor concerns were a theme that appeared throughout the survey. Elsewhere, when asked about the top three measures of professional success, 61.5% of respondents indicated "attraction and retention of employees." Asked about their most significant challenges as CEO or president, 43.3% indicated "attracting and retaining good employees."
In 2016, over half of the survey respondents plan to increase staffing, 48.5% expect to increase their investment in employee training and development, and 77.6% plan to increase employee salaries (though most will do so by less than 5%). Based on indications from other sources we've cited here, for Columbus businesses to fulfill their labor goals successfully, they should consider increasing employee salaries at a higher rate and aggressively implementing candidate recruitment strategies (such as those suggested here) to seal the deal with the candidates they want.
3 Things You Can Do To Hire More Competitively in 2016:
Look at your hiring process.

Is it candidate-friendly? Is it fast enough and responsive enough to secure a new hire before losing them to another company? Does it incorporate strategies designed to attract the Millennial workforce? Is it strategic and

designed for right-fit hires

?
Start hiring now if you know you'll need people later.

Do you already know you will need to hire in 2016?  Get a head start to improve your odds of a right-fit, high-quality hire. Why not gain an advantage for all of your hires? Seriously

consider implementing ongoing hiring and recruitment

(Lee calls this "the smartest strategy" in

SHRM

).
Re-examine and leverage your employer brand.

What are your

corporate values

? How are they tied to your hiring process? Show off your company brand; make your culture known and use it to attract candidates. This may be accomplished through in-person events and your online presence (blog, social media, etc.). Think about how your company can be both authentic and attractive to the candidates you want to hire. Treat every point of communication with candidates as a chance to sell your company, your people, and your job opportunity — make meaningful connections. Otherwise, you risk missed opportunities that detract from your brand value.
Bonus Tip:
Take your site and application process mobile. Candidates are searching and applying online. Glassdoor.com's 2015 Recruiting Outlook Survey named "inability of a company's recruiting / hiring system to allow mobile applications" as one of the five top recruiting challenges. Within the coming two years, hiring decision makers surveyed by Glassdoor expect more than one in four job applicants to visit via a mobile device. If your site isn't mobile-friendly, you'll never know who you might have missed.
What measures are you taking to compete for quality hires in the shrinking applicant pool? Share your thoughts in the comments.
Planning to Hire More Right-Fit Employees in 2016?
Don't Miss Our Free Achiever Assessment Training Tomorrow!
Read more related content on this around the web:
Image credits: Copyright: cookelma / 123RF Stock Photo, Copyright: aircoolsa / 123RF Stock Photo; both modified by text overlay.