Is VisionSpark a Leadership Search Firm or a Recruiter?
Get answers to this and other frequently-asked questions…
Is VisionSpark a recruiter?
No, we are a boutique leadership search firm. You may call either a recruiter or a leadership search firm when you need to hire someone, but you will get different results.
How is VisionSpark different from a recruiter?
First, we are true partners with our clients, sharing the investment in the hiring process and taking ownership of the results. We stand behind our work with a guarantee. Secondly, everything we do is customized for each company — for your culture, and for your role. We do not maintain a candidate database; every search is different and requires unique results.
Most significantly, our process is different. The VisionSpark process is based on the research and work of the late Ken Cardinal and his Associate, Bob Spence, architect of the Choosing Winners System™. Our research-based assessment tools allow us to evaluate candidates based on your specifications for competency and character. The results accurately identify the candidates' strengths and potential. Unlike other firms, we also share the candidates' weaknesses. For these reasons, we are able to deliver better results than a recruiter.
We have summarized these and other differences here: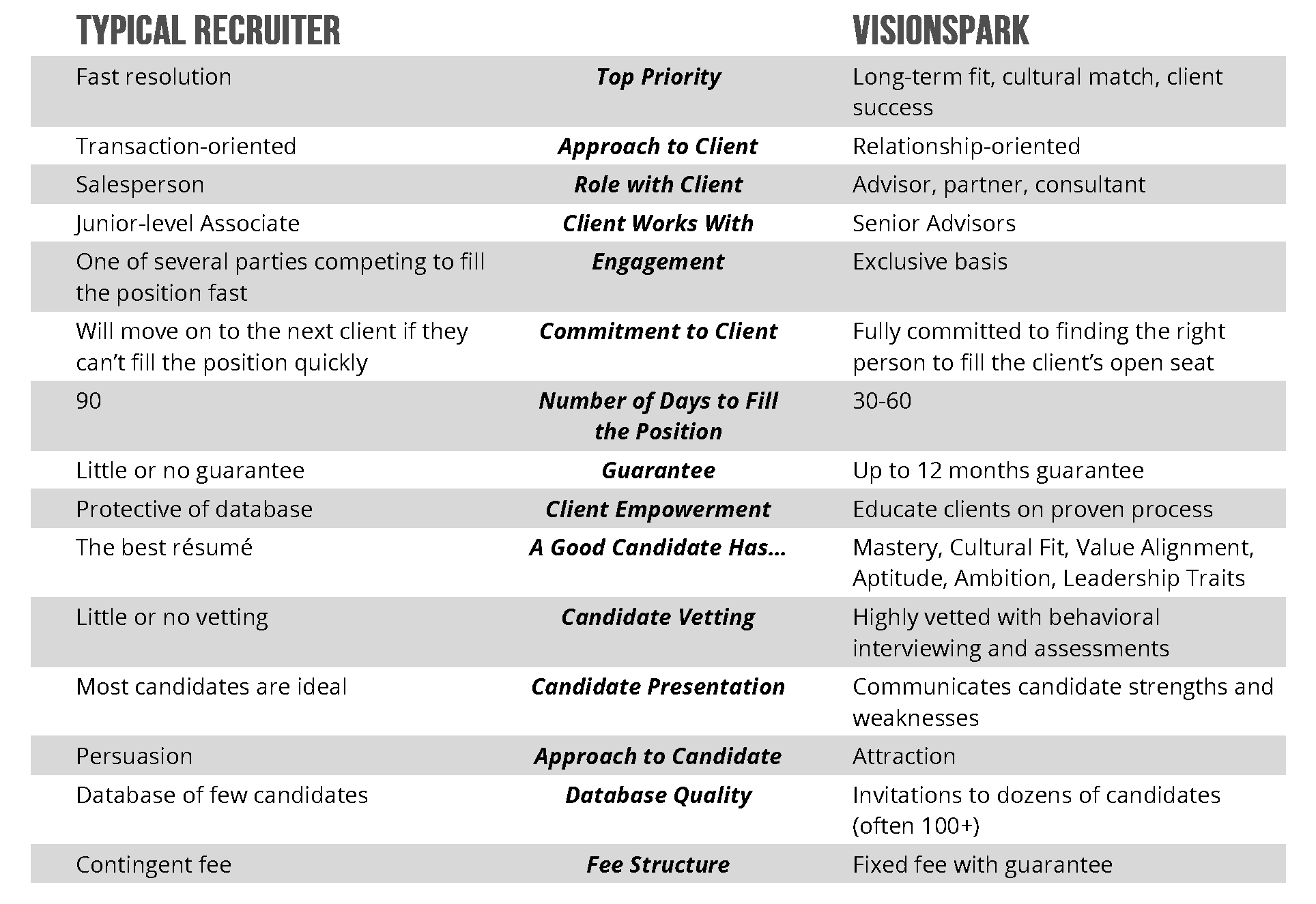 What is a leadership search firm?
A leadership search firm operates as a consultant. We work on a fixed-fee basis as a partner with our clients. Before the search begins, we help you identify who you are looking for. We focus on your company, your culture, and your needs, then interview candidates accordingly. As "leadership search" implies, we specialize in top-level leadership hires — the roles that influence your company's growth and performance.  In short, the critical hires you can't afford to get wrong.
Is VisionSpark industry-specific?
No, we are generalists. Most of our clients range in size from 15 to 200 employees.
Does VisionSpark have a candidate database?
We do not use a candidate database, nor do we contract with candidates to help them find work. Every client's needs are unique; as such, they each have a unique candidate pool. Our process "invites" candidates to participate. We often vet over 100 applicants for leadership-level positions. In the end, our clients typically have three highly qualified "superstar" candidates to choose from, each of whom fits their culture.
If I hire VisionSpark, how long will the search process take?
For most positions, the process takes 30-60 days. We are focused on our client hiring the right candidate for long-term fit and bottom line growth. We carefully evaluate the candidates through several rounds of behavioral interviewing and the Achiever™ Assessment. The extra effort is designed to help our clients avoid the significant costs of a mis-hire.
Is there a guarantee on VisionSpark's placements?
Yes, VisionSpark guarantees all of our leadership search hires; typically for 12 months. But don't take our word for it, check our client testimonials on the home page. We would be happy to provide you with references.