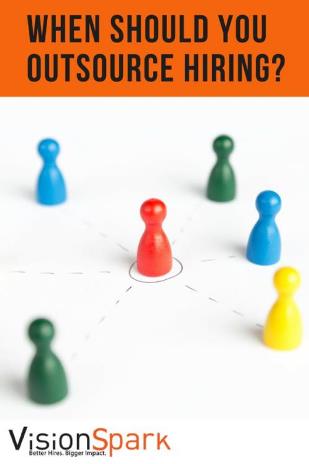 by admin
Comments Off

on When To Outsource Hiring and When To Do It In-House
There's a question that comes up for us from time to time, usually when we have a scheduled hiring training session. People want to know why are we teaching businesses how to do their own hiring, in-house? We've been asked (only half-jokingly) whether we aren't training ourselves out of business.
The truth is that it doesn't undercut our services. Those who attend our training are excited to learn our insider hiring tips — and we are happy to share them. In-house and outsourced hiring services aren't in direct competition. There are some circumstances when it's best to outsource your hiring, and others when it's better to do it in-house. Sometimes it's a matter of bandwidth: is it practical to have this on our plates now, or should we hand it off to someone who we know can get it done right? And there are some companies that (due to size, budget or preference) are never going to outsource hiring, while others will outsource it every time.
If I Use A Recruiter, Am I Outsourcing Hiring?
As a point of clarification, when we talk about outsourcing hiring, that isn't another way of saying "hiring a recruiter." A recruiter presents you with candidates for your open positions, but engaging a recruiter doesn't mean you are outsourcing your hiring process. Many people who use recruiters still do the actual hiring process in-house. An executive search firm, such as ours, helps you manage the entire process, with an emphasis on fit and long-term success.
We want businesses of any size to understand the basics of proper hiring, because it's critical for organizational performance and growth. We have found that sharing our process through training compliments the consulting work we already do with clients to help them hire top-performing leaders for cultural fit and long-term performance. However you hire (in-house or outsource), the hiring process is smoother when a business is versed in strategic hiring systems and is already taking steps to implement a repeatable hiring process.
When Should You Do Your Own Hiring In-House?
Outsourcing every hire could be cumbersome or impractical for businesses. It may be less necessary for certain positions such as seasonal, temporary work, highly technical roles or lower-level jobs. Our training empowers businesses, and it gives them choices. They have the option to do their own hiring without worrying about undermining the progress that has already been made through outsourced hiring initiatives.
Some situations are best served by a blended hiring solution. For example, when hiring for a highly-technical, highly-competitive role, it may be helpful to use a recruiter to feed you appropriate resumes. However, the hiring portion is best done in-house for such positions because of the high demand. Things have to move quickly, or your ideal candidate will move on to another position. It may be too fast for an outside hiring firm to manage effectively.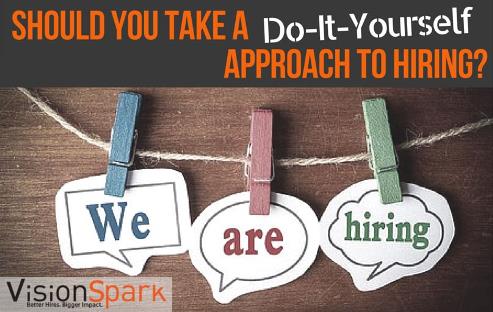 You Need To Hire Someone. Should You Outsource It?
The decision should be made based on an assessment of your in-house resource capacity. For example, you might consider questions such as:
Which Path Is More Cost-Effective?
Just because outsourcing introduces a new expense, it doesn't mean it's more costly than the alternative. Your in-house time costs you, too. Here are some considerations:
Get a feel for your capabilities and determine whether you can make this hire correctly, efficiently, and within your timeline, based on your available resources. It may end up being easier, less costly and have a better outcome if you outsource it.
In A Nutshell: Which Hiring Path Is Best For You?
Learn when to outsource hiring. Here are some general guidelines around which path is best, based on your circumstances. 
Do It In-House When:
Outsource It When:
Have you ever hired someone in-house and later wished you'd outsourced it? Or vice-versa? Chime in and share your thoughts in the comments.

To learn more about best practices for in-house hiring, start here: