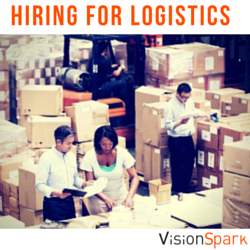 Comments Off

on How to Overcome Logistics Industry Challenges with a Hiring Process
This article was originally published in The Ackerman Company's WAREHOUSING FORUM volume 31, number 6.
Having trouble keeping your seats filled? A hiring process can help.
In a 2014 report from MHI, materials handling and logistics thought leaders identified workforce challenges as a top ten mega-trend impacting the industry in the coming decade. On top of a labor shortage, reports on HR issues in logistics bemoan the gap between expectations of those entering the field and the reality of available jobs.1 This issue, in particular, has led to increased turnover, with poor recruiting practices and inadequate job descriptions.
Here's the thing. Writing accurate and effective job descriptions is not just a matter of adding a sentence to say that soft skills are required in addition to technical skills. And that alone won't help you retain employees. If you want to look forward to your company's next 10-15 years, think bigger. To address these workforce challenges, you must implement a strategic hiring process.
A "strategic hiring process" — what does that even mean? A process that is tailored to your company's culture, value, and goals, and one that is constant and connected to your organization and its people. It is a repeatable process that you create and reuse each time you hire.
 
Here are just a few benefits of an effective hiring process:  
Reduced turnover

2 

Better qualified candidates  

Avoid the high costs associated with mis-hiring  

Happier employees (which lead to improved performance and productivity)

3 

Reduces the time and resources spent on hiring  

Minimizes potential for confusion, error, and legal mistakes
The success of your hiring process (including your ability to attract and retain candidates) is integral to your company's future. It should be approached as an ongoing strategic initiative.
Five key components of an effective hiring process:
Pre-step: Foundation
Assume that you have defined your corporate culture and values, and they are aligned with how you do business and treat your employees. If you have no definitions, it will be difficult to progress through the steps to hire the right person for the right seat at your company. If your company culture and values are underdeveloped, dated, inconsistent or misaligned, start there first.
Step One: Define Your "Who"
Understand who you are looking for. Your ideal "who," defined by behaviors, values, characteristics, and traits, is someone who will fit well at your company, based on your company's culture and values. Your "who" includes the qualities someone would need to succeed in this role, with your team, in your organization. To develop your "who," talk to the people who will interact with this role in your organization, and possibly others in similar roles at other companies. Going through this exercise improves your quality of match, ultimately saving you time and money.
Step Two: Craft Your Job Post
Now that you know who you are looking for, craft your job description and cast a wide net. Make sure your job description incorporates your company culture and explains why this role is important to the organization. Your description for a senior manager position should not be interchangeable with that of a similarly-titled position at a competitor company. Avoid rushing to make a hiring decision from a small pool of applicants. List your position across multiple channels to maximize your applicant pool. Tap into passive job seekers through sources such as employee referrals, professional networks, recruiters, and universities.
Step Three: Screen
Draw on your who to develop a standard scoring system to use as you screen your applicants. This step introduces objectivity to your process. Then, screen and score your resumes. Based on your standard scoring system, make a list of your best candidates. Take those candidates and do a phone screening, using the same set of predetermined questions with each applicant. Two interview questions we use for managerial positions are shown as Figure 1. Score the responses to narrow down your list. Don't skip follow-up with references.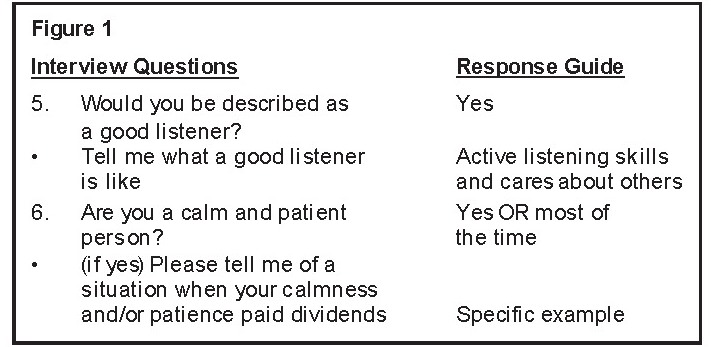 Step Four: Examine via Assessment
Incorporate assessments into your hiring process. Used in combination with interviews and a work sample or on-the-job testing, assessments are one of the three most effective predictors of a candidate's future performance. 4 Assessments support objectivity in the hiring process, provide a clear basis for comparison, and can help you avoid mis-hiring.
At VisionSpark, we use the Achiever assessment that measures things like cognitive ability, numerical perception, drive, integrity, ability to interact with people, ego, ability to handle people, psychological toughness, motivation, and ability to deal with people. It was originally developed in 1967 by a trio of leading industrial psychologists, and it is the first business-oriented assessment to combine mental aptitude and behavioral measurement. We prefer this tool because it can be customized for the degree of skill and expertise needed to succeed in the particular role. It measures behaviors directly related to future performance in the job you are hiring for, and it benchmarks the candidate's performance against others in similar roles across the country.
Step Five: Interview to Confirm
Minimize bias by including multiple parties in the interviewing process. Follow a structured interview format, using predefined behavioral interview questions. Make sure you have identified the ideal answers to your questions. Each of your interviewers should have their own copy of questions, answers, resumes, and uniform scoring sheets for each candidate. Figure 2 shows some of the tips we provide for interviewers' reference. Interviewers should take their own notes as the interviews progress. Review notes together to make data-based decisions when consensus among interviewers is not immediate.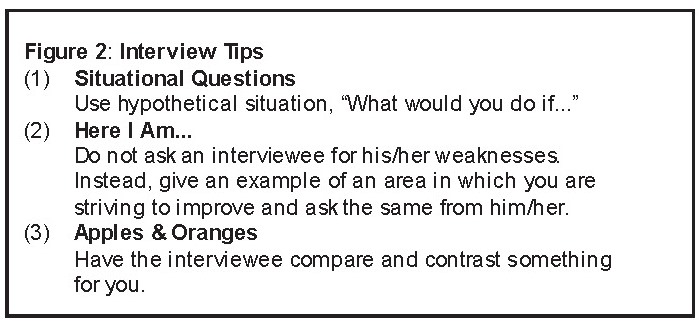 Bonus Tip: Don't Forget Onboarding
After you've made a job offer and your candidate has accepted, your hiring process is complete — but that doesn't mean your job is a success yet. If you fail to implement a strategic, repeatable onboarding program after you go through the steps of hiring for fit, it may all be for nothing. Onboarding programs are essential to set your new hires for a high-performance trajectory.
The first 90 days after hiring are your opportunity to show you care about your new hires and that you are invested in their success. Performance expectations must be clearly communicated so they know what they must do to succeed. This is also a time for them to become acclimated to your company culture and to build employee relationships. Successful onboarding programs create super-engaged employees, which is the point of hiring for fit to begin with. Onboarding is another tool to improve your ROI on hiring and increase the longevity and retention rates of your new hires.
How a process helps
Implementing an effective hiring process rooted in your who will help identify the candidate who is most likely to succeed, perform, and be most productive in your role. This delivers maximum value per hire and helps you avoid the high costs of mis-hiring and employee turnover.
Even before you get to the interview, your hiring process is an asset. Employers today — in all industries — face a shrinking pool of talent and serious challenges to attract and retain employees. Your hiring process can help remedy this. Your candidates' experience with your hiring process influences their impression of your company. As impressions spread, they impact your reputation and can hurt or help you beyond hiring.
It used to be that hiring was a competition where the most competent, committed candidate won the privilege of getting to work for your company, and your job was their trophy. If they had to wade through a lengthy and unpleasant hiring process, they had to suffer through it if they really wanted the job. But now, hiring is a two-way street. In 2016, you must woo your candidates as much as vet them. Both you and the candidates are vetting each other and trying to figure out whether you are and they are a good match. Both of you must put your best foot forward. A clumsy hiring process will cost you good candidates. An effective hiring process is a tool to attract the candidates you need — ones who are more likely to stay and help your company grow.
Read more about hiring processes on our blog: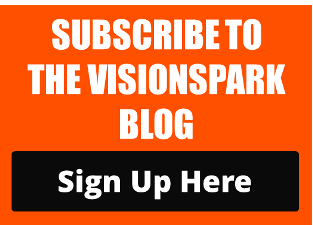 Alec Broadfoot is the Co-Founder and CEO of VisionSpark, an executive search, training and talent assessment firm, helping companies make qualified and character-based hiring decisions for long-term cultural fit and bottom-line growth. Alec can be reached at alec@vision-spark.com, or connect with him on LinkedIn.
Footnotes:
1. For example, this special report on human resources issues in the logistics industry from Chris Elliot on DCVelocity.com, titled "Too-great expectations?"
2. How to Reduce Employee Turnover,  Wall Street Journal.
3. James K. Harter, Frank L. Schmidt, James W. Asplund, Emily A. Killham, and Sangeeta Agrawal. Causal Impact of Employee Work Perceptions on the Bottom Line of Organizations, Perspectives on Psychological Science, Vol 5:4, July 2010. Abstract available here.
4. Frank L. Schmidt, John E.Hunter. The validity and utility of selection methods in personnel psychology: Practical and theoretical implications of 85 years of research findings. Psychological Bulletin, Vol 124:2, Sep 1998. Access abstract here.
Image credits: Copyright wavebreakmediamicro / 123RF Stock Photo; Copyright: stockbroker / 123RF Stock Photo; modified by resizing, cropping, and text overlay.